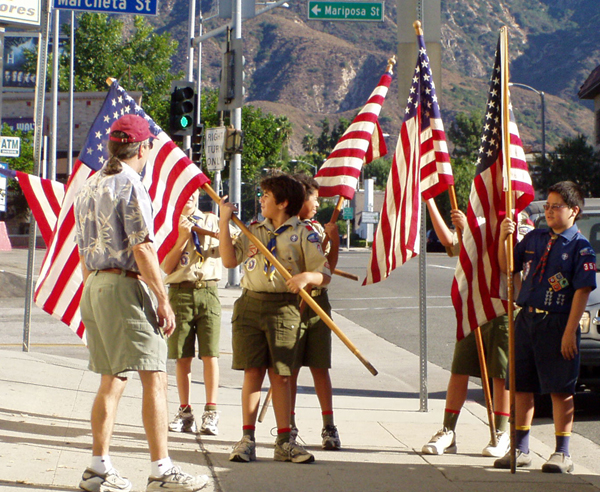 Troop 4 putting Flags down Lake Av., Labor Day 2006
Boy Scout Troop 4
A Short History
Boy Scout Troop 4 is one of the oldest chartered Boy Scout troops in the western United States. In June 2003, they celebrated 90 years of continuous operation with their sponsor, Westminster Presbyterian Church. Their Scoutroom and other facilities are located in the church building at 1757 N. Lake Avenue, Pasadena, CA 91004.

With 60 to 100 Scouts enrolled throughout the year, they are also one of the largest troops in the San Gabriel Valley Council. Their founder, Dr. Clarence Spaulding was a student at Oxford University and became acquainted with Lord Baden-Powell, founder of the Boy Scouts in Britain, and worked with him in the Scouting movement between 1908 and 1911. Spaulding returned to the United States determined to start a Boy Scout troop. He became the minister of Westminster Presbyterian Church in 1912 and founded Troop 4 in June 1913.

With a history that goes back to 1913, Troop 4 has been the longest continuously charted troop in the San Gabriel Valley. There have been over 35 Scoutmasters, 132 Eagle Scouts, and over 2000 Scouts in the troop. Troop 4 serves local youth with a program that emphasizes personal development, outdoor adventure, and service to others.

For outdoor adventure, they basecamp and backpack into the mountains and deserts, to snow ski, hike with snowshoes, surf on sand dunes, and do deep sea fishing, bicycling, swimming, canoe paddling, rappelling down rock walls, and riding the whitewater rapids. Many of their Scouts achieve 15 to 25 nights of camping within the first two years of their program. Through their varied activities, boys learn Scouting skills and ideals that carry forward into everyday living. And, everyone has fun. Troop 4 is a boy-run organization, which is one of the basic tenants of Boy Scouts of America. This means that the troop operates through the elected leadership of its boys under the guidance of the Scoutmaster and other adult leaders.


Return to Community Service Page
Return to Directors' Page
---
Click here for Up Coming Speakers, Programs & Events



Return to Home Page